| | | |
| --- | --- | --- |
| ¸,ø¤º°`°º¤ø,¸¸,ø¤º° ​ ​ ​ ​ ​ ​ | | ​ ​ ​ ​ ​ ​ °º¤ø ​ page 2 ​ °º¤ø,¸ |
| | |
| --- | --- |
| | Friday 26th February 2021 |
It's most likely fixed on newer versions of android, but on my S6 android 7 just has a bunch of terrible little quirks with the volume control that just know exactly how to get onto my nerves. First, when you turn down the ringtone volume down from any amount it always stops at vibrate. The only way to get it on completely silent is to swipe down the top menu and turn it on silent, the side buttons will never do that. This gets even better cause the buttons automatically default to ringtone volume instead of media, so for example you want to watch a video, so you go to turn the volume up, but instead it turns your ringtone on, so then you turn that down but then you hae to also swipe down to turn it off again, and by this time the video is already playing but with no volume so you got a whole mess on your hands. What the fuck samsung let me customize settings. Mobile data also isn't on the swipe down menu you can only turn it on or off from within settings. what the fuck.
| | |
| --- | --- |
| | Wednesday 17th February 2021 |
I've been kinda self-conscious about how I look recently. Like yeah I think I have a decent looking body but my face really sucks and there's nothing I can do about that. I'm probably just being a whiny bitch and my brain is trying to make myself feel bad so I'm just gonna suck it up since there's nothing I can do anyways
| | |
| --- | --- |
| | Monday 15th February 2021 |
The weather here is actually terrible, you can't even see the car in front of you if it's more than a few car lengths ahead and if you try to go over 45 on the highway it's guaranteed death.

I also got the bronco stuck in a snowbank which kinda sucked 'cause a wrecker was $65
| | |
| --- | --- |
| | Saturday 30th January 2021 |
epstein mii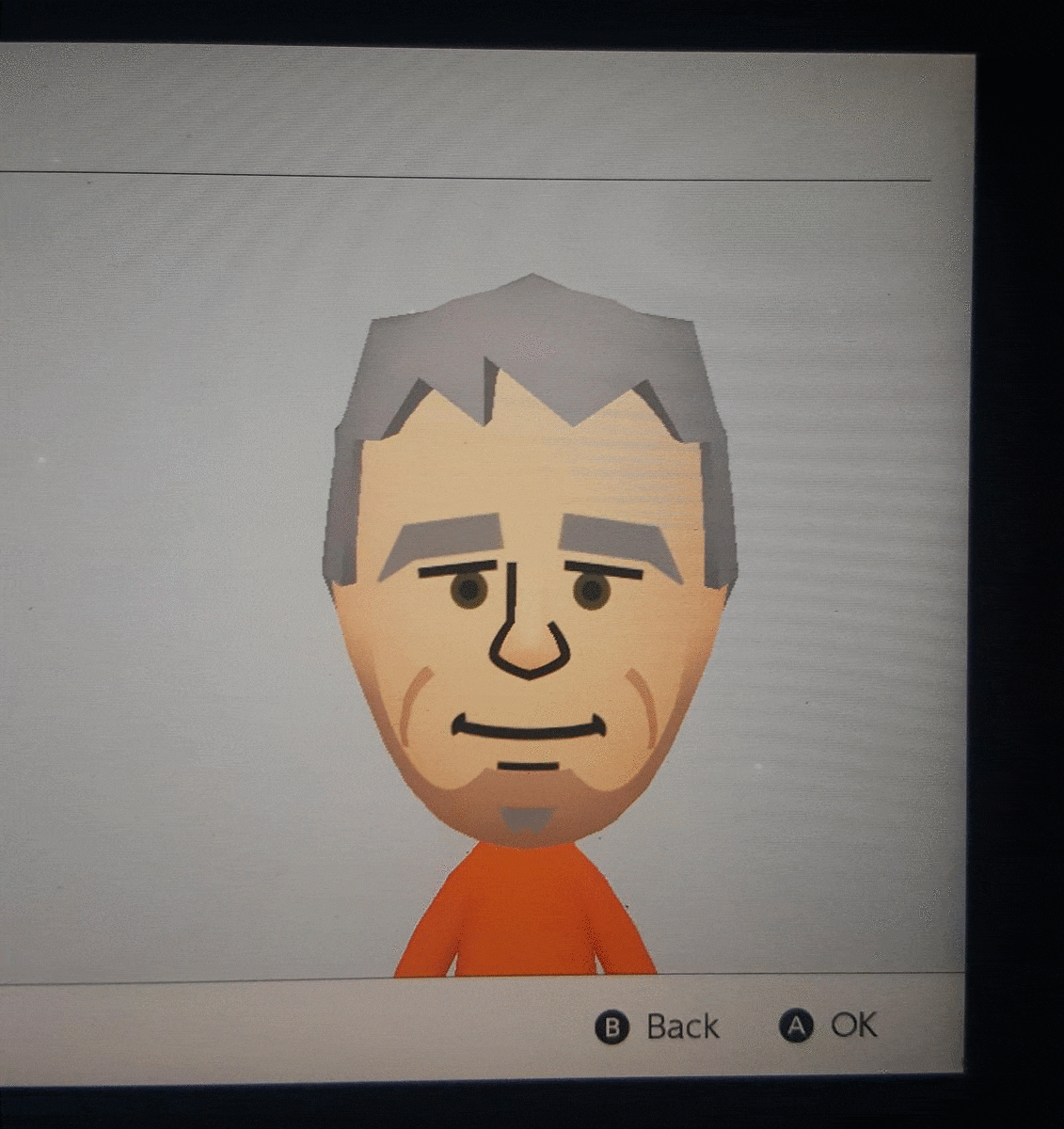 completely custom by me
| | |
| --- | --- |
| | Thrusday 14th January 2021 |
Apparently if you throw your phone at someone from across a library it gives it a cool new feature called "shattered front glass." It's pretty cool cause it comes with dlc called "glass shards in my thumb after scrolling" so I reccomend trying it out with your phone too
| | |
| --- | --- |
| | Saturday 9th January 2021 |
I'm thinking about making a new twelve men with a different aesthetic because I've been looking at some cool stuff and coming up with some cool ideas. I made a few logo ideas too check this shit out
| | |
| --- | --- |
| | Friday 1st January 2021 |
Happy fucking new years from twelve men. A lot of shit happened this past year and I've done a lot of new and different things, a lot of which aren't finished. I hope everyone has a great all the time and my new years resolution is to uhhhhhh fuckin' stay as productive or even maybe more. Hell yeah bitches see ya
| | |
| --- | --- |
| | Friday 25 December 2020 |

| | |
| --- | --- |
| | Sunday 13 December 2020 |
It's twelve days til christmas and that means it's time for the twelve men official™ christmas song. have a joyous season while singing this every day for the next twelve days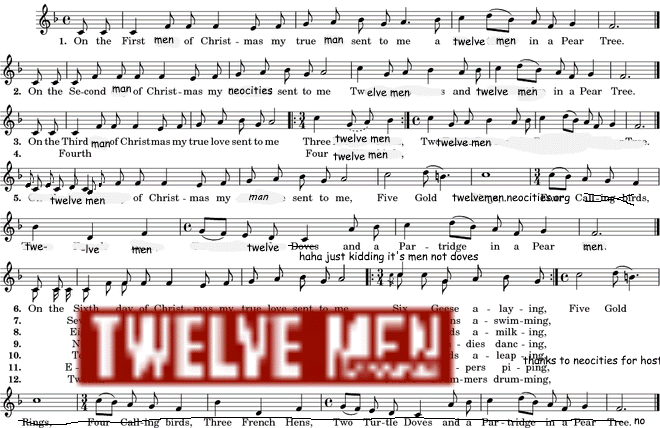 | | |
| --- | --- |
| | Thursday 10th December 2020 |
I really want to make a rhythm game but I'm not sure what language to start in. I took a look at java but I don't know if I feel like learning that at the moment, so maybe something like python or one of the C's
| | |
| --- | --- |
| | Tuesday 3rd December 2020 |
Imagine that for the longest time you hardly have felt anything, borderline apathy. Now imagine that for the past while you have been gradually opening up and finding a new feeling, one that you don't want to let go, one that makes you truly happy. Now imagine that you're told to not feel that anymore. It hurts
| | |
| --- | --- |
| | Tuesday 1st December 2020 |
Emotions are a weird thing. Some are really good, some not as much. And while I am much better at repressing and shoving everything into a little box than I was long ago, I still feel something. I don't know exactly what or if I even want this feeling, but for now I will be closing up emotionally.
| | |
| --- | --- |
| | Sunday 22nd November 2020 |
I painted my nails black with a friend the other day. I'm not very good at it being my first time but I really like how they look. People around where I live aren't super progressive but the cashier at the hardware store said she liked them which made me feel good. Probably won't keep it up though once in person school starts again
| | |
| --- | --- |
| | Monday 16th November 2020 |
Theres not much major things to add left besides completing the recommended page, which I'm not even sure deserves it's own page on the navbar, so I might replace it sometime soon. I have a lot of schoolwork, so things might take time, but pages like the gallery will stay updated as I make new stuff
| | | |
| --- | --- | --- |
| ​ ​ ​ ​ ​ ​ ​ ​ ​ ​ ​ ​ ​ ​ ​ ​ ​ ​ ​ ​ | | Sunday 8th November 2020 |

I finally upgraded my pc from a stock desktop to something that can run shaders minecraft at 60fps. I didn't have a good case on hand but I did have a milkcrate so I just ziptied everything directly to that. It's nice having all the ports directly at the front but now the gpu blows hot air directly onto my leg
Good job America, you made the less bad decision
| | |
| --- | --- |
| | Wednesday 4th November 2020 |
The next president is gonna be decided soon and man is this country fucked. If I could vote I'd vote for Biden 'cause at least he's not a bigoted fuck who's cultist followers blindly listen to whatever he says, but either way we'll have the oldest president in office ever and I'm just not sure they're what the country needs right now
| | |
| --- | --- |
| | Monday 2nd November 2020 |
I've been thinking about my feelings a lot more recently, maybe too much, but I don't want to open up just quite yet, not when I'm not even completely sure what I feel myself. It's nice to have someone that you feel genuinely cares about you though, it's a weird and different feeling, I like it
| | |
| --- | --- |
| | Saturday 31st October 2020 |
Happy Halloween everyone! I'll be speeding around town with some friends in my rusty '83 Bronco. The back leaf springs are a little worn out but the massive straight six in it can get me up to 90mph and that's all that really matters when you think about it. Turning also handles like gta 4 which is also great
| | |
| --- | --- |
| | Friday 30th October 2020 |
I'm not really sure what I'm supposed to feel anymore. Past experiences say to try not to feel anything as that could just cause more and more pain but I'm not sure I want to do that anymore. I don't know anymore. I just want to be happy
| | |
| --- | --- |
| | Wednesday 28th October 2020 |
I really wanna try to implement more javascript into twelve men. The clock on the extras page was made with it but that was basically copied and pasted and I didn't really learn anything unlike the rest of the site which I built with my own two hands. If I ever get a ton of free time like when twelve men was first created, I'll work on bettering my skills in java
| | |
| --- | --- |
| | Tuesday 27th October 2020 |
Twelve men has 10,000 views now which is pretty insane. I don't expect to grow a whole lot past this in terms of people but I'd like to thank everyone that actually wanted to look at something I've made. Twelve Men will improve. Thanks.
| | | |
| --- | --- | --- |
| ​ ​ ​ ​ ​ ​ ​ ​ ​ ​ ​ ​ ​ ​ ​ ​ ​ ​ ​ ​ ​ ​ ​ ​ ​ ​ ​ ​ ​ ​ ​ | | Sunday 25th October 2020 |

My friend and I sold our little isuzu pickup truck. It was a lot of fun but we're planning on buying an old 80's bmw. The back wheels are seized and it doesn't run right now but that's fine. I can't wait to go 125 mph
| | |
| --- | --- |
| | Thursday 15th October 2020 |
New Navbar created, it doesn't have the old geocities aesthetics I intended, but it has enough soul so I'm keeping it. Twelve Men now has over 5000 views though, which is pretty cool. It's not a lot in the scope of neocities but it still feels weird that over 5000 different people have actually looked at at something I've made. Thanks.
| | |
| --- | --- |
| | Wednesday 14th October 2020 |
New logo and nav bar created, though superior on a technical and graphic level, it no longer fits the right vibe. I'm really into lemon demon right now, so a good analogy is that when the site no longer feels like "geocities" and begins to look like "redesign your logo", that's bad. I'll keep the technical aspect of the new one, but the aesthetics have gotta change.
​
​
​
​
​
​
​
​
​
​
​
​